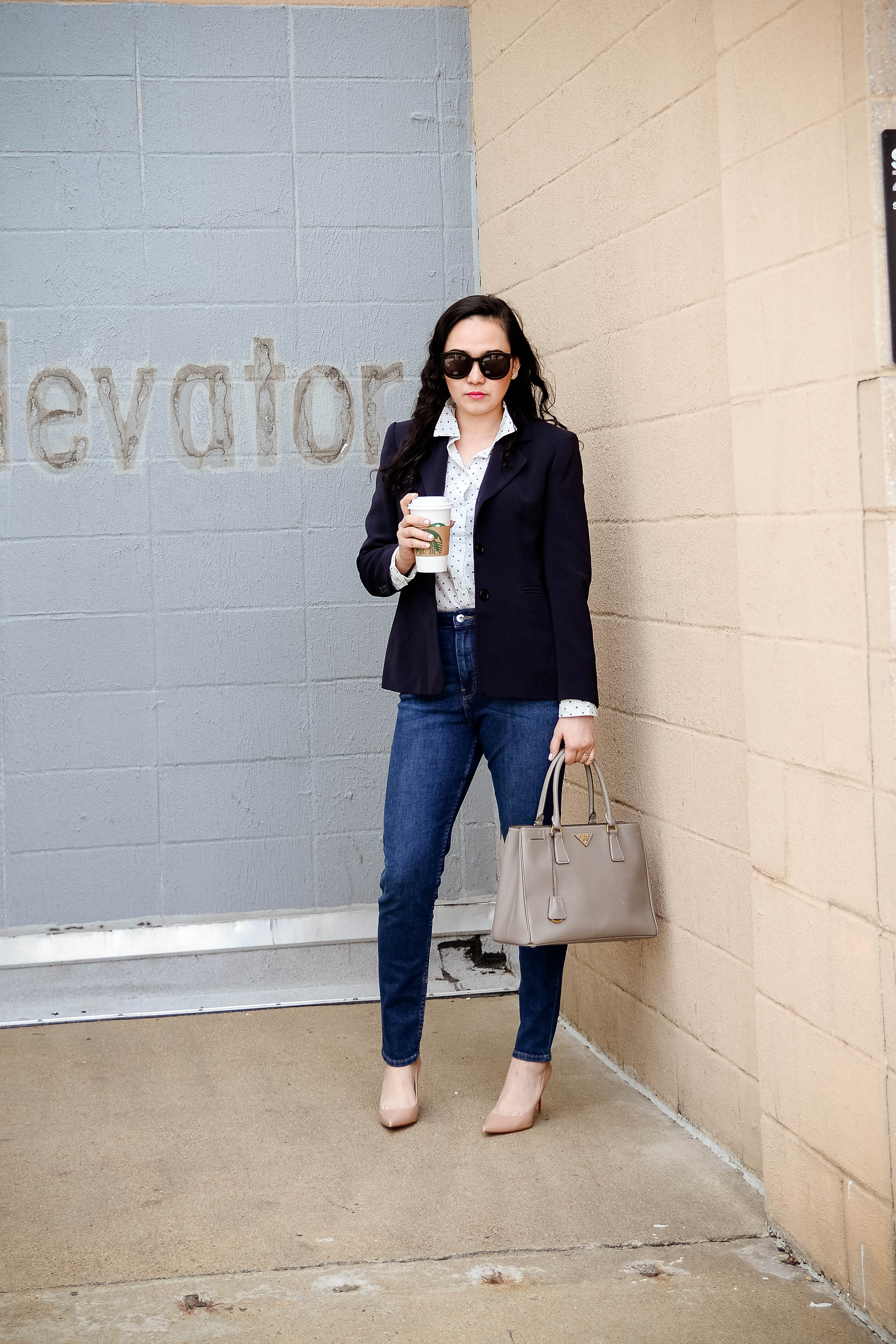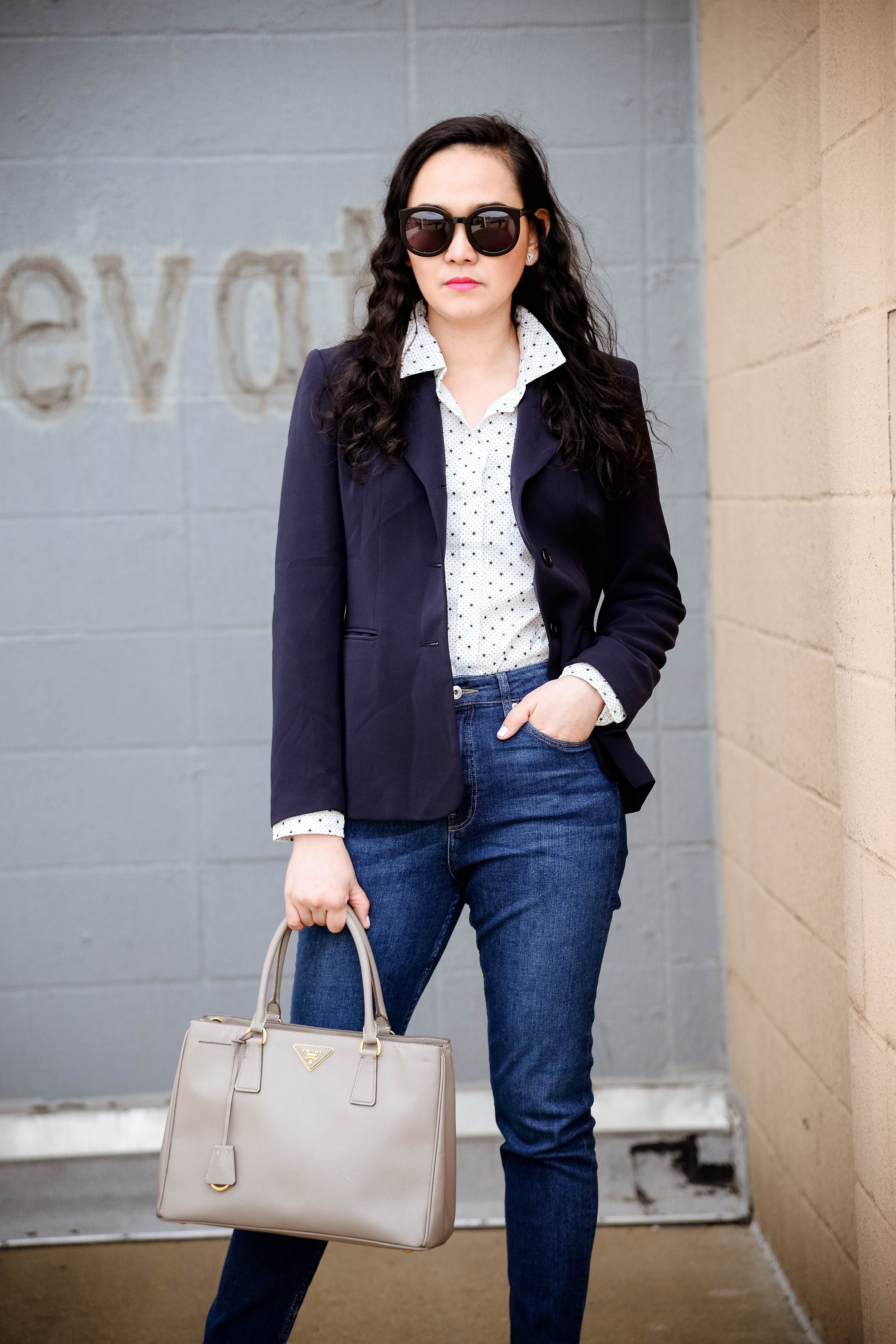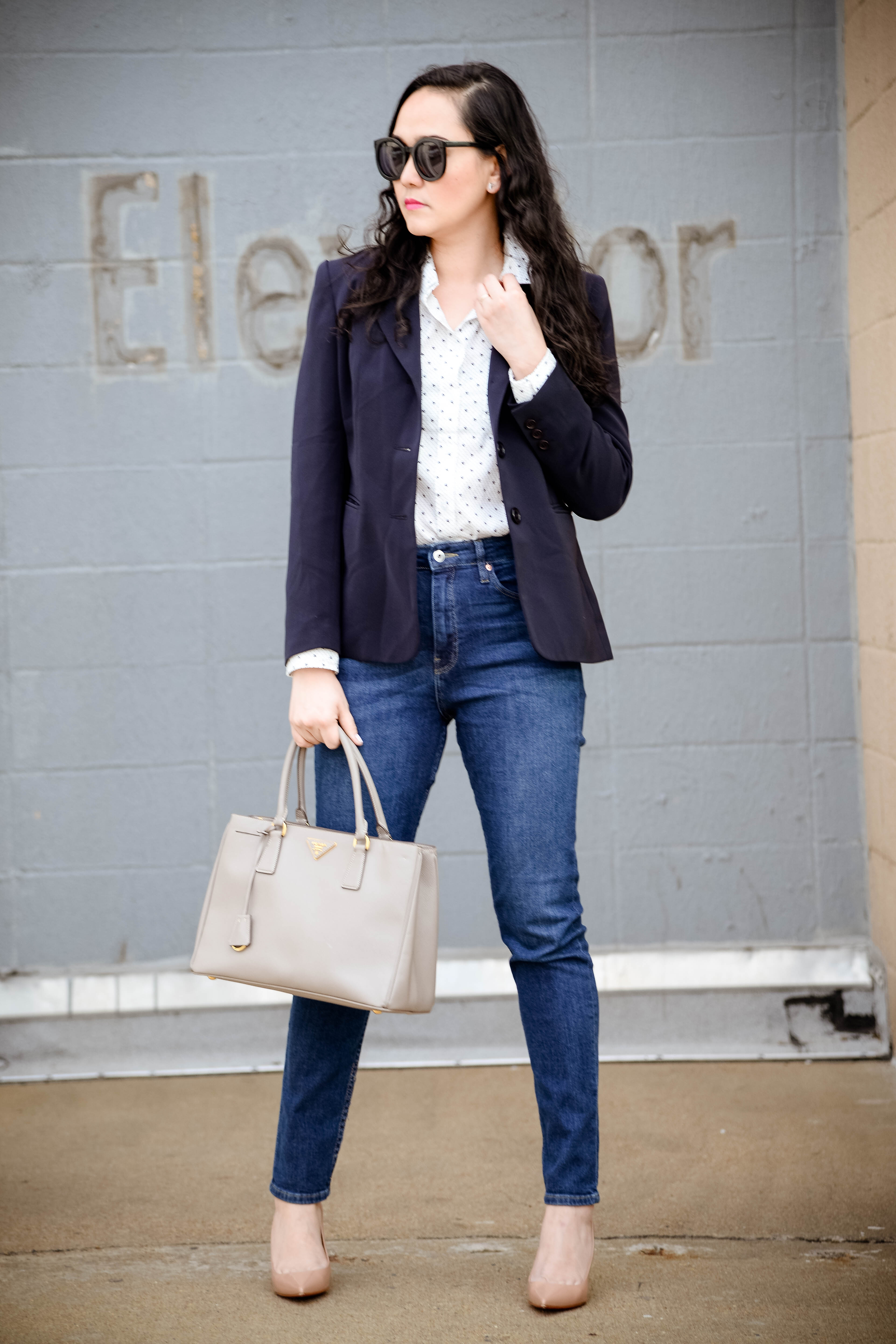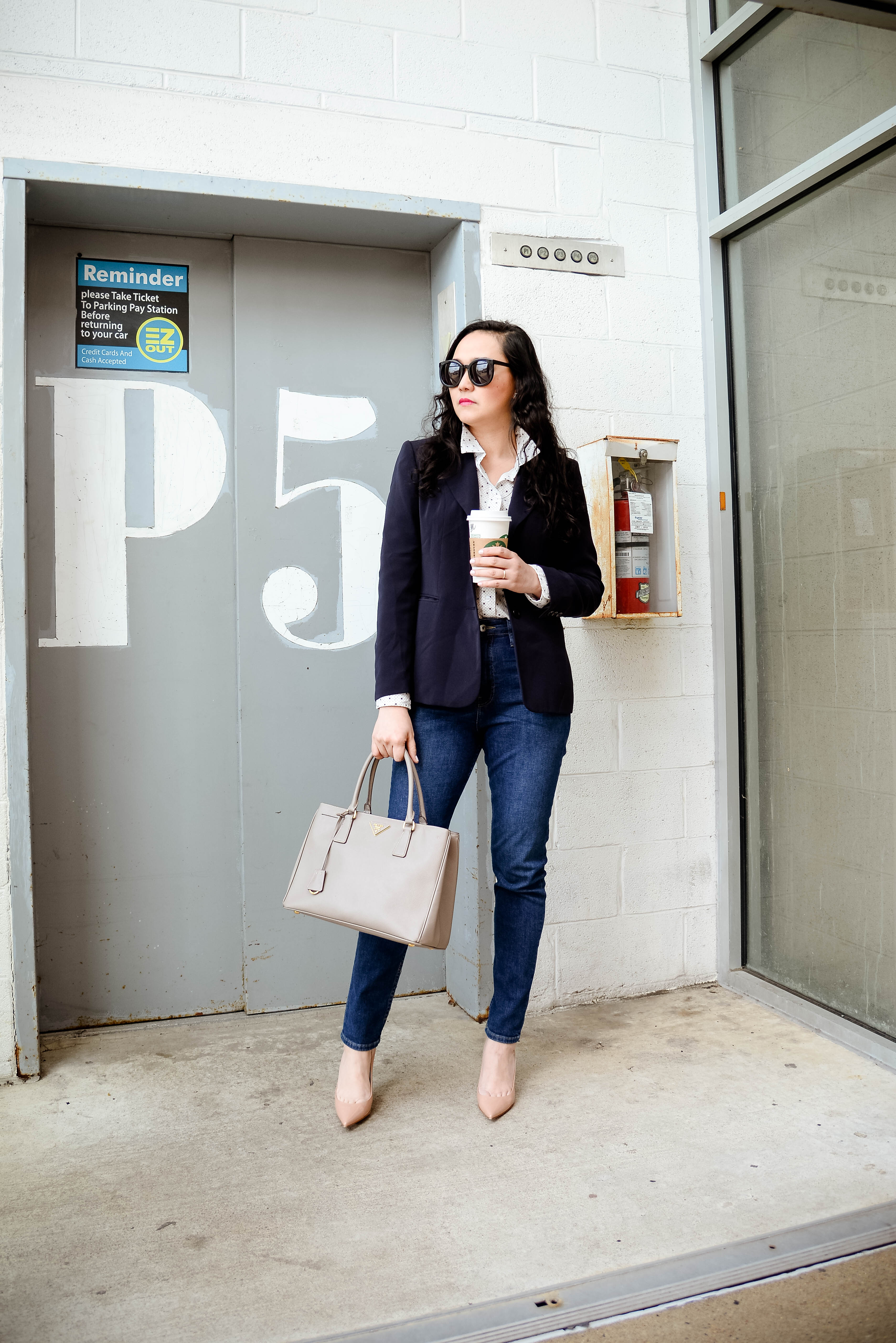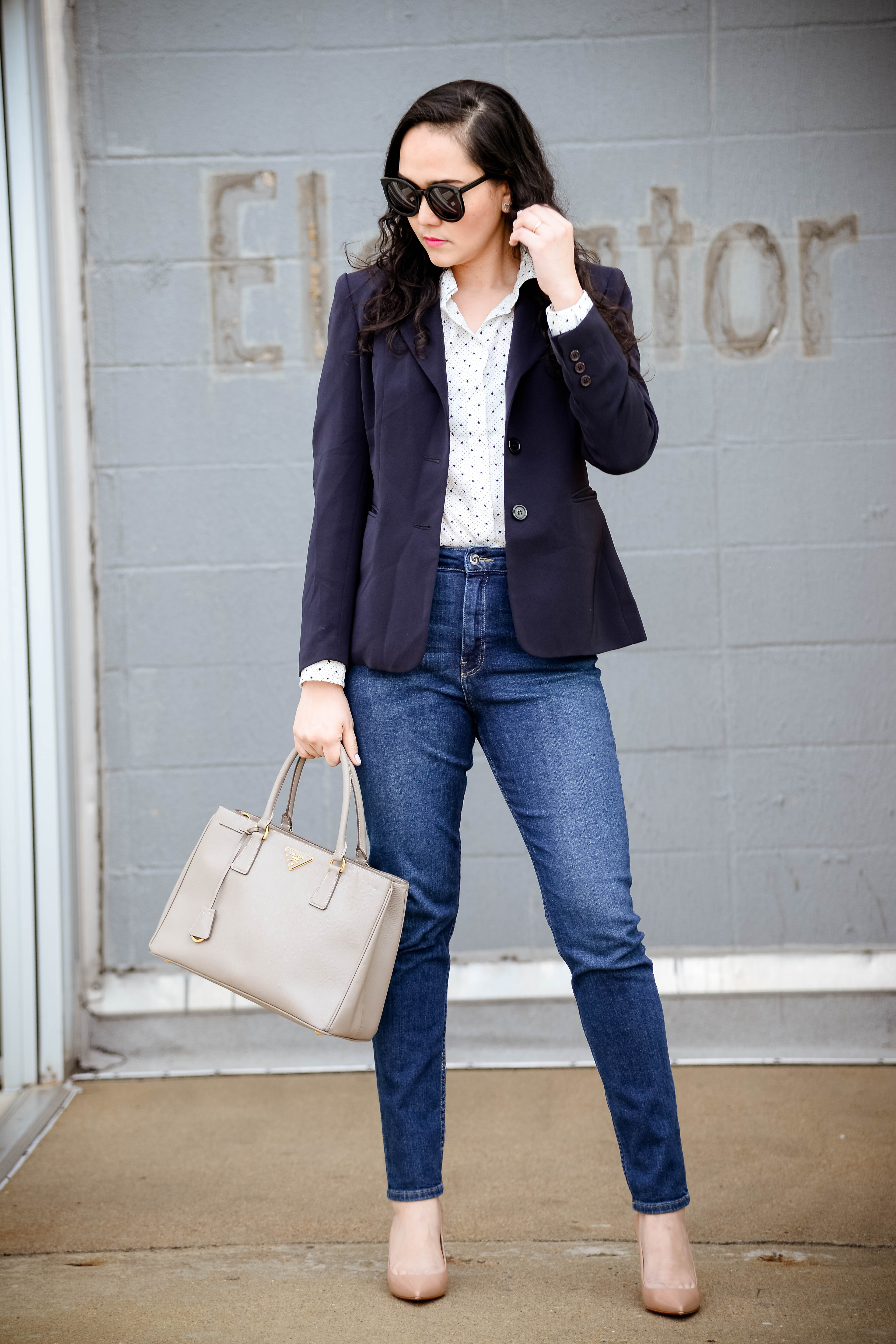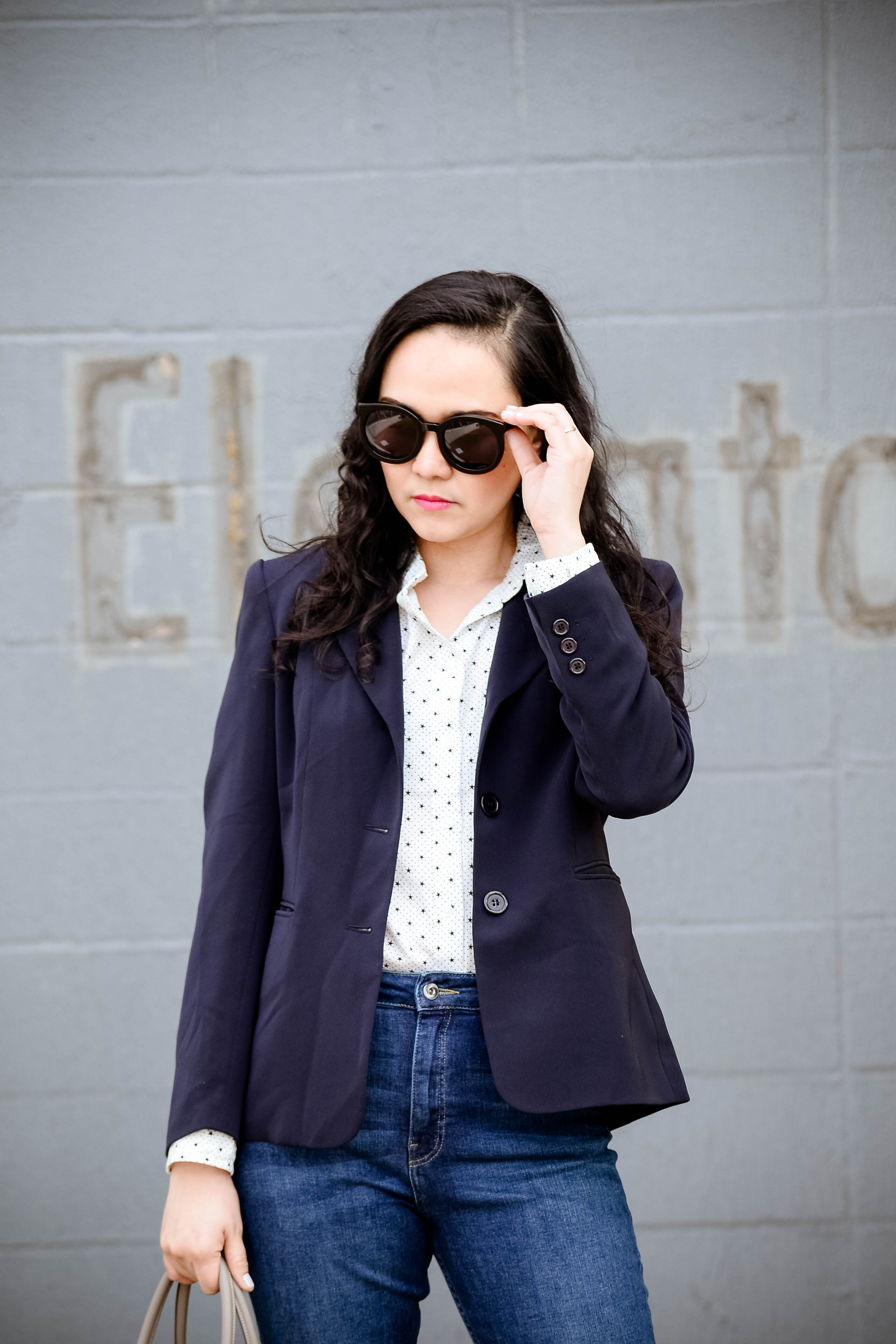 OUTFIT DETAILS: 
KASPER BLAZER (OLD) SIMILAR HERE
H&M BLOUSE 
KAREN WALKER SUNNIES
PRADA HANDBAG
H&M HIGH WAIST JEANS 
CHRISTIAN LOUBOUTIN SHOES 
Happy Monday! Today I am sharing How I  manage blogging, working full time and being a wife and a mom. I get this question a lot from my readers, followers and my co workers. First off, I am not a super woman. I just happen to have a very supportive family, specially my husband. He knows how I love my passion for fashion that is why he became my designated photographer 🙂 That is the ultimate key to it all because he is my partner to everything. Also prioritize and organize. It can be overwhelming most of the time and you will not see a blog post when that happens. Because in the end it is still Family first is the priority.
Here is my typical week. I work M-F as a Physical therapist and my schedule is very flexible. But I do love coming to work early so I can live early and pick up the kids. I do follow a meal plan and most of them are easy to make for me and my husband and the he makes food for the kids. It has always been like that since we moved here in the US ( he does the cooking). Lucky me right?
As a mom, I do everything at night when we get home, bathing the kids before going to bed, preparing school stuff and their clothes for the next day. Playing with them and having movie nights usually on weekends. I also take my daughter to all her gymnastics class and dance class.
As a wife, my husband and I make sure we do go out on dates. Specially now that my Father in law is here to help. If they are not around we just do movie nights together. We also play in a band together and that is another good bonding for us. We always eat breakfast (just the two of us because the kids wakes up a little late.
As a blogger. I do try to post on instagram either before coming to work, during lunch break or when I get home. I do try to post MWF for the blog and I do them on the weekend trying to knock out all three but my weekends have been very very busy. That is were I do household chores mostly, Taking my daughter to Sunday school and some Saturdays I do work extra. We also have a set schedule to do photo shoots on the weekends depending on the weather.  I also do readings to improve my blog on my lunch breaks and late in the evenings or really early mornings when the kids are still sleep.
I really try to do them all but without my husbands help, It wouldn't be possible. I am not saying you should have a husband like me. It is a big help to have somebody by your side that is willing to help.
I hope I was able to answer most of your questions.
Have a happy week ahead and thank you for stopping by.
[show_shopthepost_widget id="3016355″]
Simply,
Christianne
Photos: Novel (my better half)